Gulrukh Khan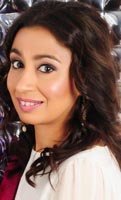 Gulrukh has been a fully qualified Holistic Practioner, dealing with Mind, Body and Spirit for more than 10 years. She has extensively studied Energetic Balancing along with other holistic modalities including:
Clinical Aromatherapy with Acupressure Massage
Advanced Theta Healing
Intuitive Body Scanning.
Gulrukh is a natural 'Empath and Intuitive' and is able to work on very subtle as well as physical levels and she will work with you very dynamically, incorporating all her skills and knowledge to assist with:
Deep rooted negative patterns or traumas that block you from recognising your true potential. The result of this will be a feeling of having let go of self-restrictions to create a huge boost to confidence and creativity
Increasing your vibratory frequencies and balancing your energy field, so that you come into full alignment with yourself and Universal Flow.
Stimulating yet deeply relaxing your mind and body – to take you to a place of inner peace with increased and visible energy.
Allowing 'Miracles to unfold' in your life by replacing old conditioned programming with positive and new ways of thinking and feeling.
Enabling you to have a more finely tuned level of Intuitive capabilities within you, so that you can 'receive' proper guidance from 'Source'. And from your Spiritual Guardians and Higher Forces (such as Angelic Forces) to make your life more enriched and whole.
Gulrukh comes from a lineage of Complimentary Medical Practitioners; her Paternal Grandfather Sir Maqsood Jung, who was the Unani Practitioner to The Nizam of Hyderabad (at one time the World's richest man), and the 'then' – President of India. (Unani, or Yunani, is a traditional Graeco-Asian medical treatment practiced widely in South-East Asia, and based on the teachings of Greek Physician Hippocrates, and Roman physician Galen.)
Her late Uncle Idries Shah was renowned for his books on Sufism, and was best remembered for introducing Sufism to Western Academia.
Treatments:
Life-renewing, energising, stress reducing Bespoke Treatments allow you to benefit from a range of holistic treatments, which include:
Quantum Laser Light Therapy (TM) – *see below
Clinical Aromatherapy for relaxation, stimulation and medical conditions
Acupressure Massage
Energy and Chakra Balancing (incorporating elements of Advanced Quantum Touch)
Advanced Theta Healing (a powerful healing treatment created from the best parts of techniques such as NLP, Miracle Inspiring Affirmations, Hypnosis and)
Distant Healing
Powerful one-on-one or group phone / Skype 'healing / transformational' sessions. You will see very visible results straight away.
*Quantum Healing
Quantum Healing is not new. It has been around for millennia. We have only recently started to understand its true meaning and application to healing, the more we understand Quantum Physics and Our Universe.
Quantum Laser Light Therapy is catching on fast globally, as a natural and very safe way to treat inflammation, diminish pain and fortify the immune system. Effects of usage are profound and it has the added advantage of visibly reducing the signs of physical ageing. Laser Light Therapy is totally safe and FDA approved for pain relief. It is deeply relaxing to receive and many people report feelings of deep pleasure and 'release' during, and after treatment.
Quantum Laser Light Therapy is the use of intense natural light that is softly applied to the body. The Light used is low intensity but equivalent to large amounts of "sunlight" going into the cells. The result is a cellular response that creates the most perfect place of balance in each cell. The body starts to self heal, producing very visible and rapid results. Using patent pending scalar wave technology, Quantum Light Therapy miraculously clears cellular memory, especially where there may be trapped emotions and trauma, extending as far back as childhood.
Some of the other most common results are:
A huge increase in cellular oxygenation and as a result, gentle body detoxification
Quick reduction of pain that lasts a long time and becomes permanent
Rapid reduction of any inflammation
Restoration, strengthening and repair of soft tissue
Removal of any calcification
Stimulation of nerve function
Visible rejuvenation of skin and collagen production, and fading of scar tissue.
It has also been coined 'Light Acupuncture', as light beams are directed to energy meridian lines and pressure points in the body, which activate energy and stimulate the organs. All without needles and just as effective.
The Light emanated produces a unique wavelength and frequency, which can be varied. This enables different parts of the body to be beamed the optimum frequency for specific requirements. Sometimes two Quantum Laser machines and up to three light probes are used for deeper and more specific treatment. These are red, violet and infra-red. There are specific settings for bespoke needs.
Consistently using Laser Light Therapy will positively enhance your "energy field". There is very little heat produced during the treatment on the surface of the skin or within the body. This is why Light Laser Therapy is frequently referred to as 'cold laser'.
They are the opposite of 'hot' lasers used in surgery to remove growths and perform operations. Very often the 'cold' laser will naturally dissolve abnormal growths, removing the need for surgery, as the problem will have been treated at source rather than treating the symptoms in a surgical way.
Testimonials
"Before new therapists use my consulting rooms I like to have an experience of the treatments they offer so I know for myself what they entail. Gul gave me an experience of Quantum light spectrum therapy for 2 hours. I'm in pretty good shape with no major ailments, but I found that my shoulder and neck area, which was a little tense and stiff from the gym that day, felt far more supple and relaxed at the end of the session. I expect anyone with a physical ailment would see an even bigger contrast and difference in their well being by the end of their session. I also felt deeply relaxed throughout the session. I am happy to fully endorse Quantum Light Spectrum Therapy and I'm sure I will hear many more positive feedback comments from mutual clients in turn…"
Felix Economakis, Director, The Heath Therapies 
"I was recommended to see Gul for her Quantum Light Therapy at a time when I really needed a fresh start and had some issues with weakness in my eyes. After the treatment I felt very much refreshed, and more focused and it felt as if both my eyes and my respiratory system had a new lease of life. Over the days that followed there were signs of detoxification and increased energy.
The breadth of the treatment and how it since changed my mind set, has been very fulfilling: it's more about addressing what's going on inside you as an individual as opposed to just going through a process. I would definitely recommend it for anyone who requires healing or rebalancing."
Kathryn Pringle, Lifestyle PR Director
"Gulrukh truly assisted me on my healing journey. I was at a "deep point" in my life when I received the deepest loving and intuitive guidance from her. Immediately after the shocking revelation and realization gained from the Theta Healing and energy blocks' clearing sessions, I had a major positive life-change. Since then my nutrition and lifestyle habits, my relationships and self-worth as well as my career and self-realization tremendously improved. She also supported me with additional "coaching" after the sessions. These discussions greatly helped my analytical mind to put all in place and in peace… I want to grab this opportunity to say a HUGE thanks to Gul!"
Ildiko G (Website Designer)
"I have been very fortunate to have received several sessions from Gul, and I will continue to use her services as the results have been formidable. Her unique style allows the client to feel at complete ease… and feel a deep trust… as her abilities to interpret the situation are truly channelled.. and yet she is totally present. I have no hesitation in referring her to others, as I know they will benefit from her skills as much as I have. I always look forward to a session with Gul, as I am excited to see what changes happen in my life – as a consequence of the intentions Gul helps manifest. Thank you for all your loving support."
Sharon – Hypnotherapist North West London