Find Us
The Heath Therapies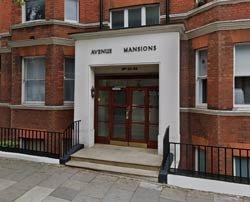 27 Avenue Mansions
Finchley Road *
London
NW3 7AX
* Please Note: this is an old building which does not have a visible street number, so instead please put a search for: '272 Finchley Road' – this is NOT my building but the building DIRECTLY OPPOSITE. 27 Avenue Mansions is on the corner of Cannon Hill NW6 & Finchley Road NW3)
Tel: 020 7794 8730 - Email Us
If you are lost, please call me directly on 07791 554 436.
Open Mon-Fri 08.00 – 22.00; Sat 09.00 – 17.00; Sunday by appointment (*Please Note: these times refer to times when various therapists are seeing patients. Felix Economakis does not work during all these hours)
Parking
Mon-Sat NO PARKING directly outside from: 7.00 – 7.00 PM (19:00). Free from 7.00pm onwards and all day Sunday.
Adjacent Heath drive: Free, EXCEPT Monday to Friday, between 12.30-3.30 pm. Free all day Saturday.
Bracknall Gardens (off Heath Drive). Free AFTER 6.00 pm Mon-Sat
Ranulf Road & Fortune Green Road NW2 are both a 6-8 minute walk away from the clinic. Parking is free on these roads AFTER 11.00am. Please note this does not apply for parking at the top of Ranulf Road but for three-quarters of the rest of it.
Just Park is a downloadable app on www.justpark.com which allows you to pay on-line for hourly parkings in local driveways.
Underground #1:
Finchley Road (Jubilee and Metropolitan Line) 15 minutes walk or Buses: 13, 113, 82 (4 stops from the O2 Centre or 5 stops from Waitrose). Exit Lyncroft Gardens
Underground #2:
West Hampstead, (10 minutes walk)
Over Ground:
Thames Link & Silverlink (from West Hampstead); Finchley & Frognal Station
Detailed directions
1) West Hampstead Tube / West Hampstead Thameslink / West Hampstead Silverlink
Exit West Hampstead tube station and turn right, (or, if exiting from Thameslink or Silverlink, turn left), keep following West End Lane all the way (6-8 minutes walk) until you come to a Sushi restaurant ("Feng Sushi") on your right, whereupon West End Lane veers sharply towards the right.
Continue a short way up West End Lane but then take the first left into Cannon Hill (NW6), just by "Hana" Persian Restaurant. Walk to the very top of this road where upon it meets Finchley Road (NW3). THE HEATH is located exactly on the right corner where these two roads meet. Across you will see 'Heath Drive'.
2) Finchley Road
Exit Finchley Road tube, turn left (direction: Golders Green). Walk for 10-15 minutes along Finchley Road on the same side of the road until you cross West End Lane. Carry on for one more block and we are on the far corner where Cannon Hill meets.
3) Bus
Alternatively, take any bus that goes along this route (buses: #13, 113, 82); exit at the fifth stop (from Waitrose bus stop) or 4th stop (if taken from O2 centre). This will have taken you just past The Heath (past Cannon Hill on your left and Heath Drive on your right) and will leave you by Parsifal Court. Walk back the direction you just came from for one block.
The Heath is situated on the corner of Cannon Hill and Finchley Road and opposite Heath Drive.