Testimonials for Avoidant Restrictive Food Intake Disorder
The following are a few of the many video testimonials from my work on Avoidant Restrictive Food Intake Disorder (food phobia). I only ever videotape the aftermath of my work with ARFID (or ARFID as it is becoming known) because it is immediately measurable after the session (we don't have to go looking for spiders, cats, snakes or vomit). In addition most other phobics tend to prefer to keep their results private. Fortunately my clients with ARFID are often keen to publicise their results as an inspiration to others to seek easy and effective treatment which can also be applied to other issues.
2017 - Zachary Bell on Global News Canada, February 15 2017
---
2016 - Video clip of a one-session treatment for Katie Donelly who lived on mostly white bread, crisps and junk food. This was filmed for a German TV channel
---
2016 - Skype session (for ARFID treatment at home) with Meagan (Australia), who only ate KFC and potatoes.
---
2016 - Georgie (only ate toast, chicken and chips).
---
Georgie's story also featured in the Daily Mail: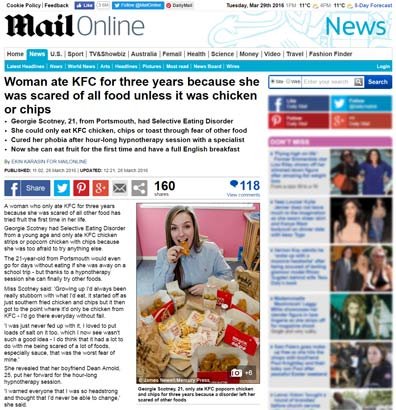 ---
July 2014 - 11 year old Oliver had the typical 3 year old's dream diet and faced a mental block when it came to fruit, salad and other healthy foods. This is the aftermath of our session.
---
July 2014 - 8 year old Samuel (son of Pani Bundy) used to just eat cereal, yoghurt, sandwiches with chocolate spread, apple, plain pizza, sausage roll, chicken nuggets (MacDonalds only) and fries (providing they looked right).
Half an hour later he is eating the following foods in this video. The other interesting thing is that even when he did not like some of the foods present, he spat them out and continued trying new ones.
---
July 2014 - Lisa, via Skype
---
July 2014 - 11 year old Olivia came to see me in early June. Here she is just over a month later with her dad (who wanted to stop smoking), giving feedback after our session.
---
February 2014 - Hanna, 19 years old, only eats chips, some veg, egg whites, bread. She says she had problems with food from the very beginning. Her boyfriend who accompanied her told me she had difficulty in even doing the shopping and looking at the foods they were buying.
And here are the results for Hanna straight after the session, just over an hour later, where Hanna is trying new foods.
"So instead of my usual dinner of chips and eggs, which I have been having every night for as long as I can remember, tonight I had vegetable rice with spring rolls and sweet and sour sauce.. Something I never would have dreamed of having, before I met Felix Economakis.
Thank you Felix, you changed my life"
Hanna Little
Daily Mail
Hanna's story was also reported in the Daily Mail on the 15th April 2014: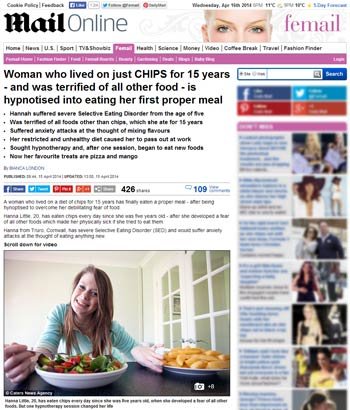 ---
February 2014 - Steve, 32 years old, mostly ate potatoes (chips, mash) sausages, bacon, burgers, with only a couple of fruits. He wanted to eat healthy food such as salads and veg. He seemed to have developed ARFID after an illness in childhood.
And here Steve is straight after our hypnosis session:
---
January 2014 - Nate, a 30 yr old Californian who has only eaten pizza and grains for the last 30 years, agreed to this video after one Skype hypnosis session treatment:
---
October 2013 - Jess ate a limited diet in all areas and wanted some expanding her range. Rather annoyingly I forgot to press the record button as she was actually trying the foods here, but this is her comments afterwards:
Phase two - the tasting of new foods is not yet over, Jess' little brother brings in a bowl of coriander soup followed by a curry. Mum enters the room and has a somewhat shocked look on her face as Jess talks about liking what she has just tried. Thankyou to Jess and family for consenting to show these results to inspire others.
"I am 16 years old and had had issues with food for as long as I could remember until last month when I had treatment with Felix Economakis. It has been amazing ever since, last night I even had a curry for dinner, found a new love for onion bhajis and biriyani rice.
Thank you so much Felix!! xx"
Jessica Towner
---
September 2013 - Mickey is a 35 year old man who has never eaten any fruit or veg. He brought with him a fruit salad to try after the session. This is filmed straight after the therapy treatment.
---
August 2013 - Billy, a very bright 10 year old with ARFID since around the age of 3. Filming had begun just after Billy had already eaten several pieces of cherry tomato and banana.
---
June 2013 – James (13 year old boy) who since the age of 3 could only eat: Yorkshire pudding, one type of BBQ chicken, chocolate and a little bit of one type of pizza:
---
April 2013 – Kirsty Russell – Food phobia:
"Hi everyone. I thought I would give everyone an update as its been just over two weeks since my session with Felix. Since the session, I can honestly say the fear of food has completely gone.
I feel like my 'subconscious' part of my head speaks up a lot more now. If that even makes sense. Like when I am making food for the family, an example hot dogs, jacket potato and coleslaw. Normally, the family all eat frankfurter sausages and I have pork sausages. (frozen, morisons own).I go to the freezer to get a sausage out for me, then something in my head says, why don't u just eat the frankfurters. So I dont get a sausage out, just make frankfurters, then I put coleslaw on everyone's plate except mine. Our 8 year old then says, why aren't you having coleslaw. I instantly reply, I don't like it. (even though I've never tasted it) my fiance then says, why don't u try it. At that moment I feel like I have two minds. Like when u watch a film.and they ha…ve a devil on one side and an angel on the other…well something in my head says, you don't like that, then another part says, just try it. So I do. (i hope this all makes sense)
I have tasted more foods in the last two weeks than I have probably in my entire life. These foods include, curry, Chinese foods, coleslaw, salad, fruit -loads of different fruit, most of which I like, pasta bake-bacon and tomato flavour (i loved it) other pasta dishes….these are just a few.
I am now managing to take vitamin tablets and iron tablets every day with no struggle (something I really struggled with before) I am drinking fresh juice, I am not sticking to exact brands of things. Like bread used to have to be kingsmill or Warburtons only, but I bought morisons own and liked it 
I still struggle to want to think of new things to eat, and there are days where I really just want to eat something completely off of the old 'safe' list, but my fiance is very encouraging and helps me a lot.
So thank you Felix for helping me change my life."
Contact me today, and let's start your selective eating disorder treatment.